As we are entering the "post-aberration-correction age" in TEM, atomic resolution blown past Ångström has armed materials scientists with unprecedented opportunities to access local atomic arrangement, site specific chemical composition, electronic bonding and etc.. Meanwhile, to go beyond this "static" and often "isolated" view of materials microstructure, our research interests are focusing on gaining a dynamic and sometimes correlative insights into materials systems relating to their synthesis, performance and degradation.
Developing new catalysts with high activity, selectivity and stability holds the key to the solutions of many global challenges we are facing today, including energy shortage, air pollution and climate change. The ultimate goal of "designer catalysts" is largely based on the knowledge of catalytic active sites in atomic details during catalysis.Our research aims at filling this knowledge gap and to provide invaluable experimental insights into the mechanistic of reaction pathways, through studying working catalytic structure under reaction conditions and during catalysis.
Radiation Effect and Nuclear Alloys
In-situ Environmental (S)TEM
(S)TEM is a powerful tool in resolving multi-scale but sometimes overwhelmingly detailed structural and chemical information. Currently, no satisfactory method exists to help in bridge the microstructure data and the macroscopic properties, causing an increasingly large bottleneck for materials advancement. We are interested in developing computer algorithms including Deep-Learning-based semantic segmentation capable of high throughput demographic analysis on defect population.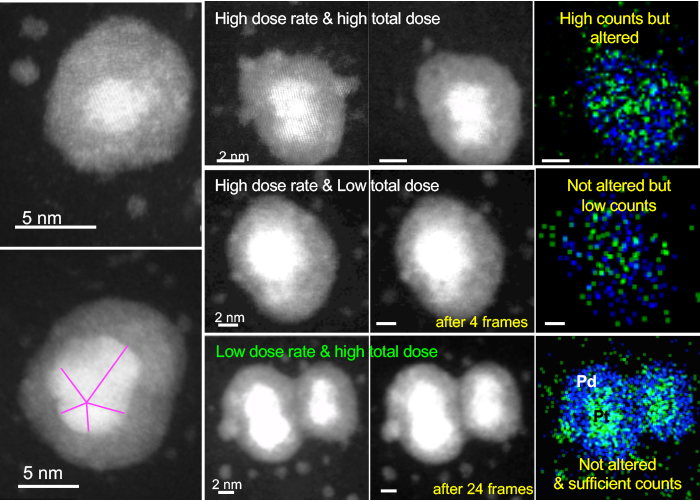 Analytical TEM including electron energy loss spectroscopy (EELS) and energy dispersive X-ray spectroscopy (EDX) have been well established for robust solid materials. We are interested in extending this informative chemical analysis to bio-hybrid nanocomposites and to life science.